So much for updating twice a week... :p
Anyway I want to blog about these lovely phone covers from
Okasaneko
.
She sent them as a gift and I have to say I absolutely love them. I had thought I would like the black one better from her pictures, but I've ended up falling hard for the pink one.
Look at it! It's so cute and pink! I've loved pink as a young girl (what young girl doesn't like pink? All the 3-4 year old girls at the kindergarten I volunteer at seem obsessed with the colour) and tried to switch to liking the 'cooler' black as a teen--to the point where I got some rather ill advised thick black framed glasses that I thought would make me look cool but ended up making me look like a grandmother instead... Now I'm back to admitting that I really do love pink, especially pastel pink.
That's not to say I don't like the black cover, I think it's pretty awesome as well. It's great having two phone covers I can switch back and forth with. Thanks very much again Pinky!
I've also picked up something very useful last week:
It's that green grass-like matting that you find on produce shelves in the supermarket. I was able to pick up several rolls that were being thrown away. They're a little dirty, and in one of the mats the dirt is so fine that I haven't been able to remove it completely. These are really great for my display shelves. Since I don't like just displaying items by themselves, I'm working on a number of dioramas on my bookshelves to display my stuff.
The green makes excellent grass, a lot better than the green felt I've been using. You can see a bit of it at the top of the pic.
I don't have very good pictures of my shelves, I need to set up a better light source. The grass is only the beginning, I'm planning to add flowers, a blue 'sky' backdrop, fences and maybe a couple of bushes or trees. I took some other pictures for this post but they didn't come out very well, so I'm going to redo them over the weekend. I will probably not have time till then.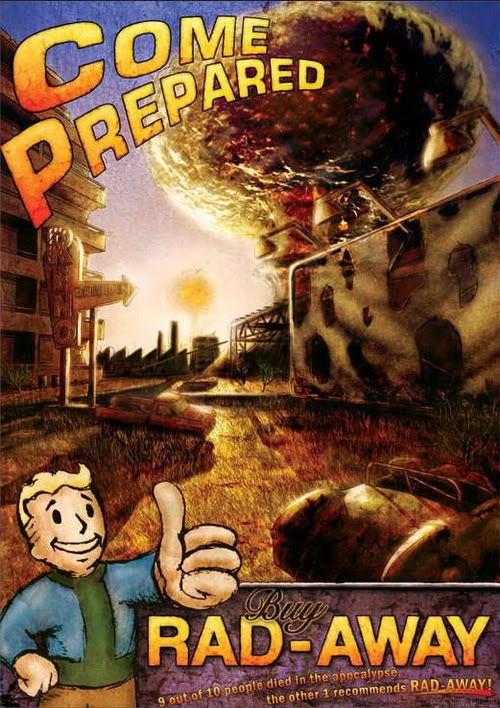 I'm currently playing Fallout 3, and it's really fun. I actually started playing last year and never really went past Megaton, which is like, one of the first areas you get to. I restarted again recently with a brand new character and I've been hooked. The world in all its ruin is an awesome place to explore, it's full of fifties inspired surroundings and the old fashioned music somehow really suits the post-apocalyptic feel of the game. Love it. Too much, because my right hand hurts now. The picture is a Rad-Away ad because I can't find my screenshots. :/
I also want to say that I just got a call from the local primary school for a relief teaching job on Thursday. YAY! Finally! I've been volunteering in schools for quite a long time, hoping to get noticed and get a call to come in. I'm a bit nervous about this assignment, and the nervousness will continue to grow as it gets nearer to the day. I got an assignment to do four hours in a kindergarten last week and I couldn't sleep the night before. :/ And I've been volunteering at that kindy every week for the last 1.5 years! I know all the kids and the routines! I don't know anything about the primary school's routines because I've never volunteered there. >_< I hope I do well. Can I have some prayers and good wishes? :D I hope that once I start really working for the schools I'll get more calls, especially next term (there's only two weeks left into this term). I'm going to go bother the other schools sometime this week to see if they have anything lined up for next term which I can hopefully do.