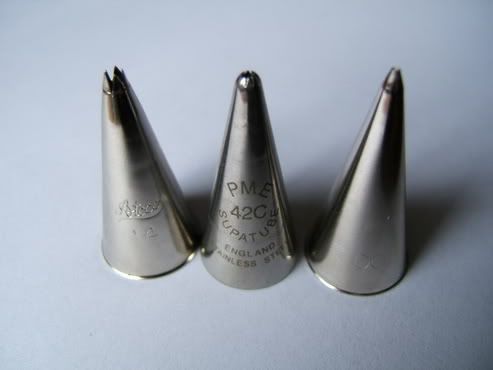 I received my nice shiny new PME 42C icing tip in the mail a few days ago. I also bought a couple of others, the teeny round tip in Adelaide and the bigger star tip at a newsagent's. (Of all the things to sell at what is essentially a stationery/book/magazine shop...)
I experimented with the tips and acrylic texture paste a few nights ago and I'm pleased with the tips. They make such pretty patterns! I'm less impressed by my piping skills though. I definitely need more practice. What I wasn't prepared for when using the tips was the absolute mess the texture paste made. I had to use my finger to squeeze out the paste from the piping tips, and if I didn't put enough paste in, nothing would come out, but if I put more, the paste would come out of the top of the tips as well as the bottom when I applied pressure :/ I wish there was some way I could pipe the paste using the tips and a syringe, I find it easier to control the amount of pressure using a syringe, and it'd probably be less messy too...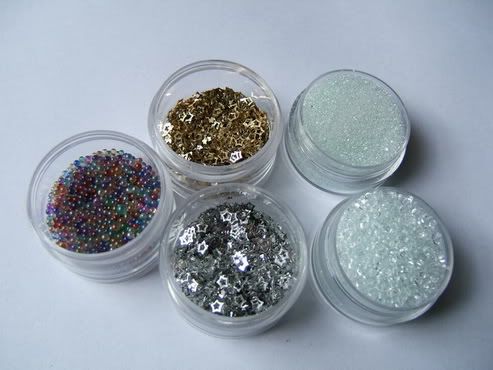 I also got some new crafting supplies. I'd been looking for a cheap source of microbeads in online, but haven't really found any that satisfied me. On the way back from Adelaide, I found a $3 bag of mixed beads in Go-lo, which is a kind of dollar shop franchise. The smallest beads are about 1mm, yay! No idea if they're glass or plastic though...
I found the stars in another dollar store franchise,and the teeny little stars are about 2mm across. They're like glitter, they stick to everything!
The stuff on the right is fake sugar and fake ice from etsy seller,
MiniatureSweet
. I figure the sugar would look just about right if I tried to make those yummy danish butter cookies *drools*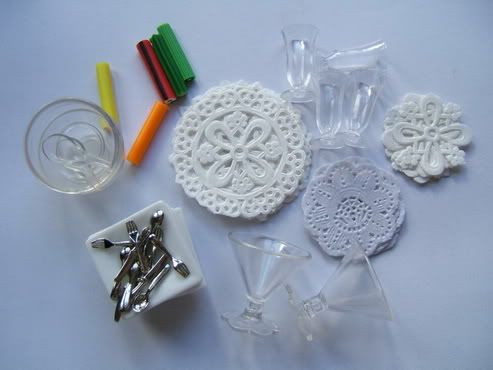 Also from MiniatureSweet, I got a bunch of plates, glasses, cutlery and paper doilies. The fruit canes were free gifts. They are all too big for 1:12 scale, and the glasses and bowls are too big even for 1:6. Well, that'll teach me for looking at the sale description and going "That's about right!" without checking the sizes on a ruler.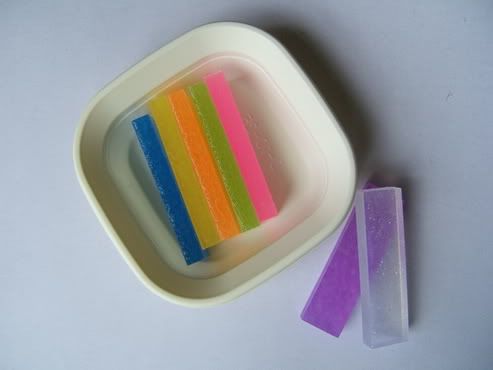 I got some Oyumaru molding material. I bought it because it looked like it could be a cheaper alternative to silicone. It's a Japanese reusable mold making material, and I'll do a write up about it once I have a chance to try it out. Hopefully within these few days. I also got a cute cupcake eraser as a free gift from the seller :D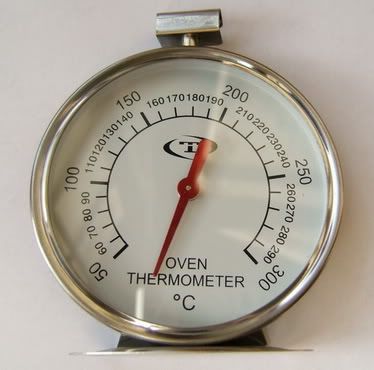 And I finally ordered an oven thermometer online after searching all over town for one without success. And wouldn't you know it, the day the thermometer arrives, I find another, smaller one in the local kitchen shop. I'm sure it wasn't there the last few times I checked!