I'm greedy...
I bought some more toys when
BeHappy
added more things to their budget corner. Some of these are kinda rare, and to get them at the price I did, I'm really happy. These would have cost a lot more had I paid full price or ebay prices on them. I've been opening them slowly, a few ever other day so I don't get overwhelmed and it feels like I'm getting a present every few days XD It's an awesome feeling.
I'm glad I got that kitchen set on the upper left. I'd been having some problems fitting my existing kitchens in the house I repainted, and this new kitchen fitted perfectly. :) I wouldn't have bought that kitchen if it hadn't been on sale. I already have too many kitchens -_-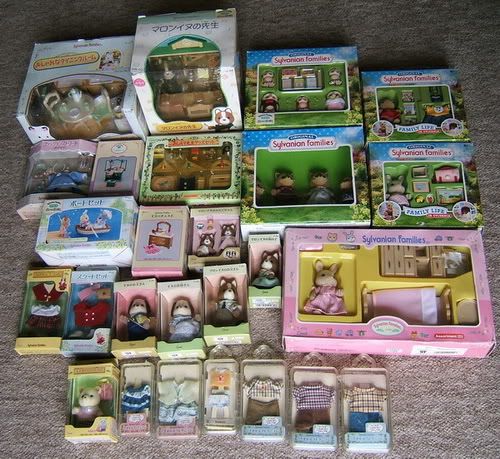 My husband also bought me the Sylvanian Village Bakery, something I've wanted since I first saw it a few years ago. We got it NRFB from within Australia and at below retail price, so I'm really happy. It's even more awesome than I thought it would be! I was so giddy with glee when I unboxed it. Granted, it does have its flaws, but I love it just the same.
Now that the Pinky St contest is over, I'll have more time for my other projects. I'm going to give the bakery a slight over haul and hopefully touch it up enough for it to look more realistic. I've already started remodelling some of the smaller items from the bakery like the cans, which were a bland matte plasticky gray. I just spray painted it chrome. I'm working on that jam jars now which have the same plasticky problem.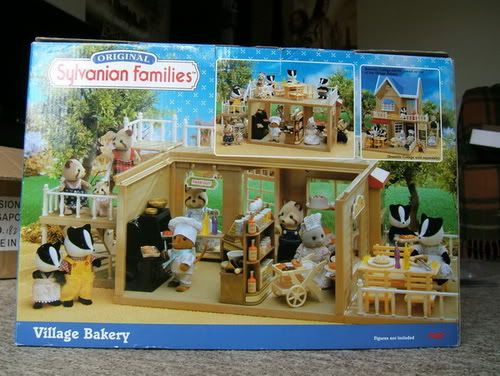 I haven't been in the best of moods lately, and one of the reasons is that a Sylvanian I bought recently turned out to be damaged. I didn't want to talk about this publicly as I didn't want to bring bad publicity to the seller as it really isn't their fault, but after thinking about it I doubt I'd do much if any damage at all.
I bought a Sylvanian dog teacher set which came with a little mini school house and a dog teacher figurine. There were three of them at the seller's shop and they were listed at a discount because of damaged packaging. You're allowed to choose exactly which box you want. Just my luck, I chose the one where the figurine had somehow had parts of its flocking melted off onto the packaging surrounding it. I think exposure to light and reactions with the plastic packaging did it. :(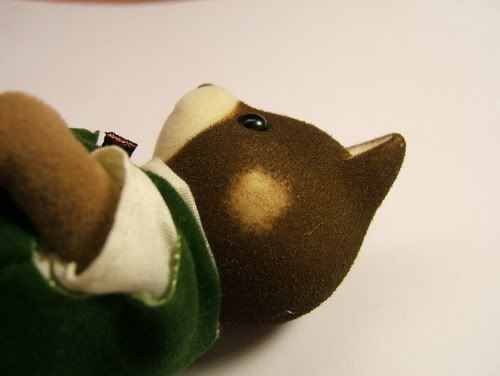 I contacted the sellers about it and they were good enough to offer me a similar figurine as compensation. This figure is the maron dog mother, and they suggested that I could swap out the the dress she comes in for the dog teacher's clothing as the figures were 'the same'.
The figures are not the same though, the dog teacher is a darker colour, has a thinner head and is slightly smaller than the mother. Not very huge differences and many people wouldn't even notice, to be honest, but the differences would bother me, I think.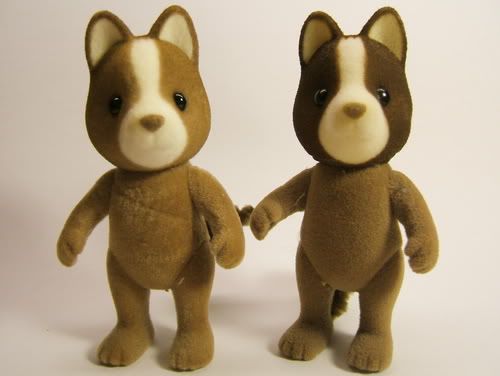 Also I already have an extra maron mother dog--I bought that the first time I got stuff from them. I've decided to ask them if I could get another different figure from their budget corner instead.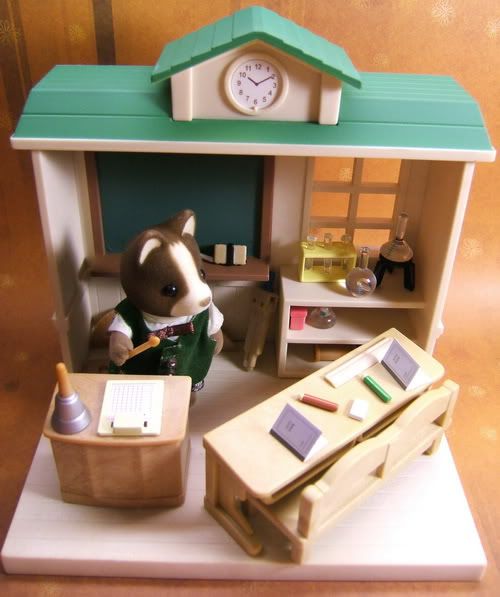 My dog teacher with accessories from another set that I'm gonna review in a few days. The damage is on the back and on the other side of his face.
I'm looking for ways to disguise the damage on the dog's face now, I was considering bandages :P