I've forgotten to take any pictures. And I'm too lazy to do so now. My house is looking more complete, but suffering from colour bleeds where I was careless. Some of the paper covering the bits I didn't want pink got wet (again, carelessness--I left it in the rain) and stuck to the paint. I've removed some if it with water, but there're stains on it now. Looks like I'll have to repaint those areas. Argh, this house is taking too long to paint. The area where I do my spraying is disgusting now. Full of bird poo. Ugh.
I want more toys. This little set here is just so cute, I desire it. It would fit my future bakery/bed and breakfast house <3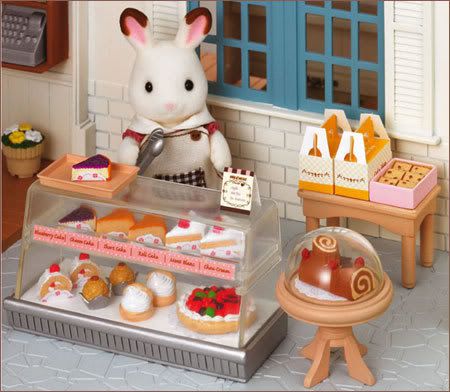 The set was made as one of the extras for the Sylvanian Families
Chocolate Rabbit Restaurant
released last year. It combines a kind of outdoor style restaurant with a house. I don't really like this new restaurant, I prefer the Kitchen Restaurant released in 2005. The Kitchen Restaurant looks rather like a diner and you can stack a cottage (sold seperately) on top of it to make a taller building. They rereleased the Kitchen Restaurant last year in limited quantities, for some reason.
(Images of the Kitchen Restaurant stolen from the
Tama Boutique
)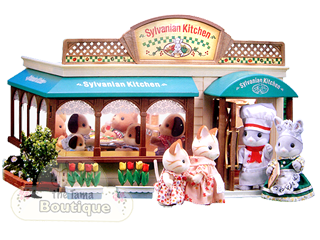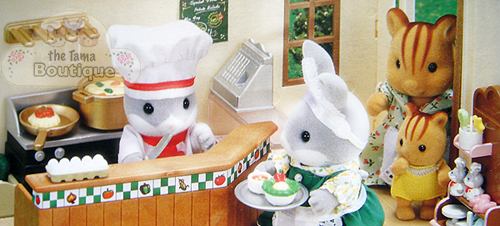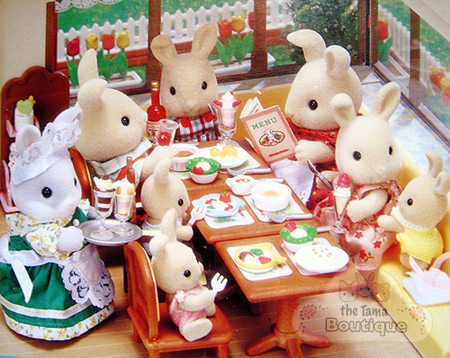 Here are some of the other sets released for the Chocolate Rabbit Restaurant (the cake stand above is actually one of them). Even though I don't like the Chocolate Rabbit restaurant, I adore the supplementary sets.
These pictures come from the official Japanese Sylvanian site)
Bread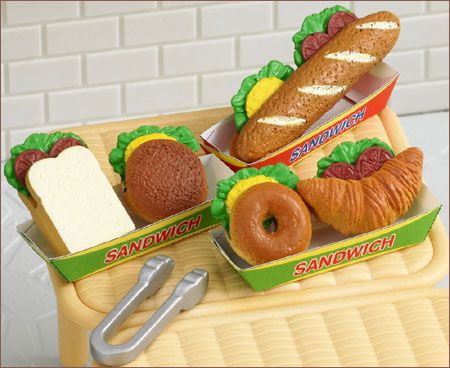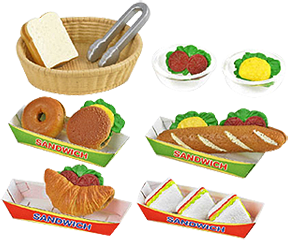 Stew stand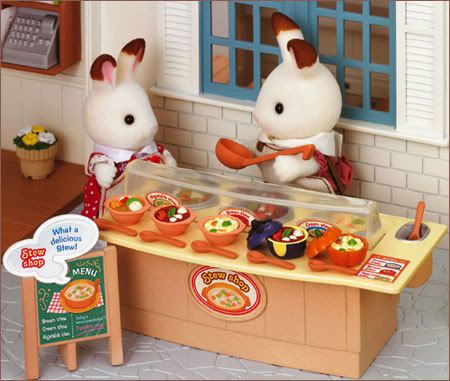 There are even stew inserts that can fit both into the laddle and the bowl! This means it's a mighty big laddle though...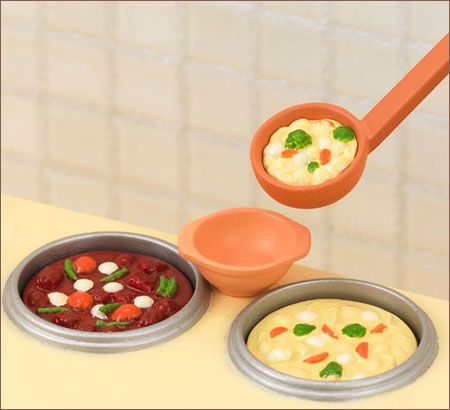 Food set--This one is just too cute! I definitely want this one. Bear pancakes *drools*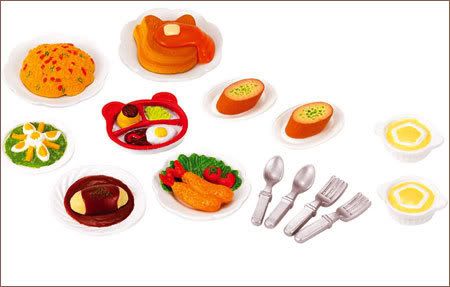 Doughnut stand--this one's cute (like all the others) but is not paricularly big on my want list.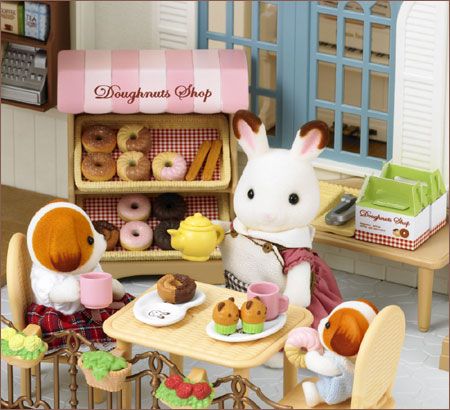 Sylvanian Families also released a limited cat family last year. I've slowly fallen in love with these little critters. They're different from normal families in that they're mixed. Most Sylvanians have critters that look alike save for size, but this family's gone and married outside the clan :p I guess this means they're the only ones not comitting incest?